Onn Wah Precision Technology (Suzhou) Co., Ltd was established in 2002. Singapore-Suzhou industrial park is selected due to its convenient location and access to a strong manufacturing supply chain.
Within three years of operation, we expanded to a bigger facility in West Suhong Road. Today we have a strong 80 employee team in our Suzhou facility. We are now certified to AS9100 as well as ISO9001.  Our facility housed many high precision machines from Germany and Japan which enable us to manufacture complex parts up to 3 metres length.
In the China market, we differ from our competitors by specializing on small volume production of high precision parts catering to the aerospace, medical, printing and semi-conductor business. Our key difference is that we work with customers on complex parts with special processing and ensure delivery is prompt with no surprises. Our strength in program management and having a strong engineering team enable us to work alongside with our customers in developing new challenging projects or transferring of projects from overseas.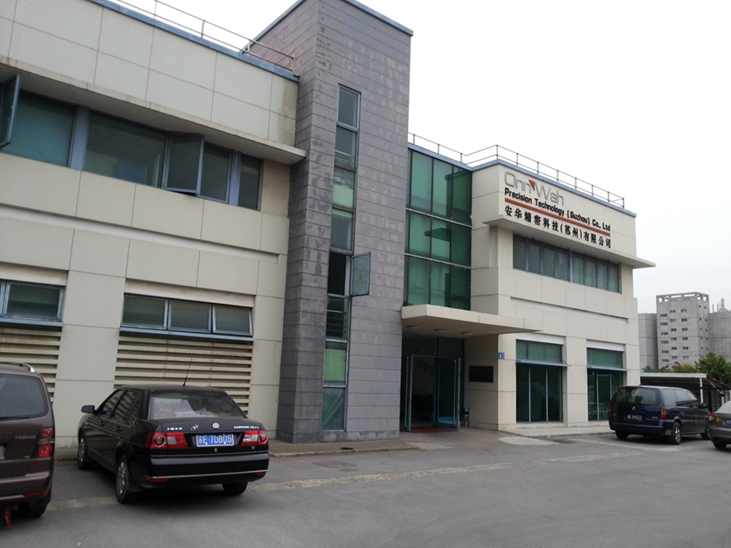 We engage our customers regularly. This is one of the exhibitions we participated in Shanghai. We have program managers that serve and link our customers to all our internal resources. Our Microsoft Dynamic ERP system unite all information flow from order entry to final billing. All data are entered once and processed in a efficient manner via various in-house automation modules enabling us to serve our customers well.
Our A1 factory handles medium size machined parts. We uses smaller machines like DMG MORI DMU 50 Evolution for 5 axis and 5 sided machining. These machines allow our engineers to use lesser setups for complex parts while maintaining a one piece flow concept.
Fanuc Robodrill Milling machines/Okuma LB200 lathes and Doosan Milling/OKUMA LB300 lathes are placed strategically to work in cells. This lean production flow enable our delivery to be prompt with minimum waiting time. In-process inspection are done to ensure quality requirement are met consistently. Visual management and lean principle are deployed.
Our QA department works round the clock as the production. Inspection records are kept and files in accordance to our stringent AS9100 standards. QA engineers will work closely with our customers technical team to interpret inspection means and reports requirement
In our A5 factory, we machine larger components with tight tolerance. This picture show one of our customer part being machined in our DMG MORI DMF360 machine which can handle size up to 3.6m length and 1.1m width. Parts requiring five axis simultaneous machining are also done on this machine.
Another machine in our A5 factory is OKUMA lathe LB45II which can turn parts up to 3 m length. We house 2 of such machines.
We use ZEISS ACCURA II for our in Process and Final Inspection of medium to bigger machine parts. This machine can measure parts up to 1.2m x 2.4m.